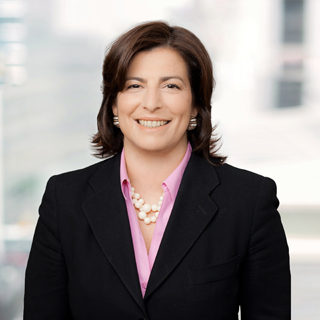 Dear Friends and Colleagues,
Today, July 22, the Corporation for National and Community Service announced that it had selected the Edna McConnell Clark Foundation as of one of 11 intermediaries for the Social Innovation Fund (SIF). We are honored to have been chosen among many highly qualified applicants, and we are eager to participate in this innovative public/private partnership—one that will identify, fund and advance evidence-based programs addressing some of our nation's most pressing and intractable social challenges.
The $10 million grant we have been awarded will be matched dollar for dollar with EMCF funds from our endowment and will directly help youth-serving organizations reach thousands more economically disadvantaged young Americans with effective programs that can help them secure an education and employment, avoid risky behaviors such as teen pregnancy and crime, and become successful, productive, independent adults. The SIF grant, together with EMCF's matching funds and further augmented with subgrantee match funds from co-investors, will strengthen the organizational capacity and evidence base of effective nonprofits that serve low-income youth and are poised for significant growth. Our aim is that in three to five years they will be prepared to absorb greater investment that will enable them to expand to scale.
To maximize our collective impact, the entirety of SIF and co-investors' funds will directly benefit subgrantees; EMCF will cover all administrative expenses of SIF-related activities as well as the cost of business planning and other strategic support for subgrantees.
We look forward to finalizing and signing an agreement with the Corporation, to working with its leadership, and to forming a learning community with other SIF intermediaries. Sharing our experiences will bring us closer to the goal we already share: investing public money and private capital in programs that work and helping these programs to replicate and expand in communities of need across the country.
The details of our relationship with the Corporation will be finalized in the coming weeks. In the meantime, I can outline broadly our plans for the SIF:
EMCF will concentrate on investing in high-performing organizations that improve the life prospects of low-income youth (ages 9-24), have a strong evidence base demonstrating their programs' effectiveness, and are poised for substantial growth—the work we have focused on for more than a decade. Our SIF subgrants will support capacity building and evaluation, laying the groundwork for scaling subgrantees' programs.
Our competitive process to select SIF subgrantees will include outreach to our extensive national referral network to identify promising candidates; public announcements that specify our eligibility criteria and instructions for completing our preliminary online application; and a rigorous assessment of an organization's program(s), leadership, commitment to evaluation, financial viability and operational capacity that requires extensive interviews with stakeholders and experts. Our reconnaissance of potential SIF subgrantees will be open to organizations nationwide, with an initial emphasis on communities of need in North Carolina and South Carolina, Oklahoma, and California.
Investments will be structured on the basis of compelling business plans, with clear performance metrics, in keeping with the basic investment approach that EMCF has developed and refined over more than 10 years.
We are seeking co-investors such as other foundations to ease the burden on subgrantees of raising the matching funds required by the SIF. This will extend the principles of our Growth Capital Aggregation Pilot and, if successful, demonstrate the effectiveness of the coordinated co-investment approach we pioneered with Citizen Schools, Nurse-Family Partnership and Youth Villages. Before we submitted our SIF application, The Duke Endowment, George Kaiser Family Foundation, Tipping Point Community and Open Society Foundations committed a total of $17 million to help subgrantees that meet their grantmaking criteria fulfill the matching requirement, should EMCF win a SIF award. Other funders, including The Atlantic Philanthropies, Bank of America, W.K. Kellogg Foundation, and the Robert Wood Johnson Foundation, have expressed interest in participating, pending subgrantee selection. We are eager to engage as many co-investors as possible and look forward to working closely with the above-mentioned co-investors and others who join them.
We will also work closely with two strategic collaborators with whom we have partnered in the past: MDRC, a prominent developer and evaluator of interventions to improve the lives of low-income Americans, and The Bridgespan Group, a leading provider of business planning and capacity building services to nonprofits. They will offer our SIF subgrantees best-in-class expertise in evaluation, business planning and strategy development.
SIF and co-investor funds will directly and exclusively support the infrastructure development, capacity building and evaluation of the subgrantees we select. All administrative costs for EMCF, MDRC and Bridgespan will be donated by EMCF, and we will also cover, outside of the federal grant, Bridgespan's consulting support to subgrantees.
Our financial participation in the SIF will be above and beyond our normal grantmaking activity. The SIF grant and EMCF's match will be in addition to the 5 percent of endowment we are required to pay out annually as a private foundation.
We will share the specifics of our SIF plans soon after a final agreement with the Corporation is completed in August. We have developed a Social Innovation Fund FAQ to answer some questions about our plans that we will update as this initiative progresses.
In closing, I'd like to thank the many people whose efforts have contributed to making this SIF award possible. These include our supportive trustees, committed co-investors, strategic collaborators, advisors and colleagues. Most importantly, the grantees we have worked with over the past decade have been an ongoing inspiration. It is from working with them that we have learned how to be a more effective grantmaker and adapt our methodology to better meet their needs. We applied to become an intermediary because we believe the Social Innovation Fund has the potential to become a catalyst for "scaling what works" by encouraging the public sector and the nonprofit capital markets to direct more resources to the most promising and effective social programs. We are grateful for the opportunity to work with the Corporation for National and Community Service, other SIF intermediaries, the subgrantees we select and the co-investors who join us to bring this vision to life.
As always, we welcome your thoughts, suggestions and comments.
Sincerely,
Nancy Roob