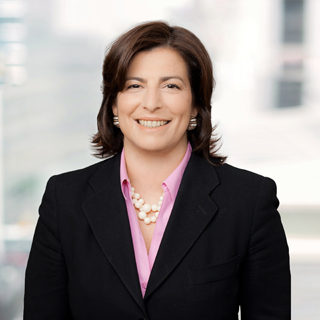 Dear Friends and Colleagues,
It will come as no surprise that the recession is affecting the Edna McConnell Clark Foundation and our grantees, as it is everyone. How long the economic crisis will last, whether it will worsen, and what will be the ultimate consequences for the Foundation's strategy and the work of our grantees are, of course, uncertain. It is clear, however, that the downturn is constraining nonprofits generally at the same time that it is increasing the need for services they are increasingly hard-pressed to provide.
Yet, as President Obama observed in his first address to Congress, our nation has a history of seeing "promise amid peril." His administration's commitment to "a new era of responsibility" and government that "works" presents exciting opportunities for the kinds of evidence-based programs that the Foundation has long supported. If ever there were a time for government to direct funding to programs that have been scientifically proven to make a difference in the lives of the economically disadvantaged, that time is now, when every dollar counts and must be held accountable.
In the 15 months since our fiscal year ended on September 30, 2007, the Foundation's investment portfolio has suffered losses of roughly 20 percent. Although this is less severe than what many other foundations and nonprofits have experienced, it is still a significant loss and requires an adjustment in how we think about our grantmaking in 2009 and beyond. Our highest priority is to support our grantees as best we can during this challenging time so they emerge strong and on course when the economy recovers.
To this end, our trustees have adopted the following principles:
We will meet all current commitments to our grantees on time and according to the terms and conditions of our agreements, although this will mean spending more than the 5 percent of the average market value of our assets that the IRS requires.
We will work closely with grantees to ensure they have strong, board-approved contingency plans in place, and we will be prepared to adjust the terms of our investments accordingly.
Beyond our current commitments, we will adhere to the grantmaking budget we had planned for 2009 and 2010 as far as our grantees are concerned, even if this entails spending more than 5 percent to meet their increasing financial needs.
We will defer investing in additional organizations in 2009 until we are confident that current grantees' needs are met and our own investment portfolio stabilizes.
We will look for efficiencies in our operating budget and conduct contingency planning for 2010 and beyond to align our activities with what we anticipate will be a decrease in grants spending over the next several years.
The Foundation's investment strategy to date has been to identify organizations and programs that work, to strengthen them, and then to help them expand to reach larger numbers of low-income youth. But growth will be difficult to sustain during a prolonged economic downturn. In the months to come, in addition to helping grantees formulate contingency plans and revising our expectations of their performance, we will provide, where appropriate, best practices and management tools to help grantees work through these tough issues with their boards and staffs. Many of our grantees have not had the experience of managing an organization through a down cycle. Yet we have confidence in these organizations and their leadership. That is why we invested in them in the first place, and why we have every reason to expect they will navigate through this crisis strategically and effectively.
And even in the midst of economic crisis there may be opportunities to achieve better outcomes for America's low-income children and families. The Edna McConnell Clark Foundation has built a portfolio of grantees distinguished by the evidence of their impact and their organizational capacity to grow. In an environment increasingly focused on results, where policymakers insist that scarce public dollars be spent on programs that truly make a difference, many of these grantees are well positioned to make progress toward realizing their visions. President Obama has publicly recognized two of our long-time grantees – Nurse-Family Partnership and Harlem Children's Zone – and called for them to be replicated or adapted nationally. As of this writing, we don't yet know whether government funding will be available to support further expansion of these and other successful youth development organizations. And we're well aware that, even in the best of times, scaling up a program while preserving its quality is always a challenge.
We will stay the course with our investment strategy and do whatever we can to ensure that the accomplishments of our grantees are widely recognized and that these high-performing organizations continue to build their capacity to take advantage of whatever opportunities lay ahead. For we cannot advance what President Obama called in his Inaugural Address "the work of remaking America" without improving the life prospects of our nation's growing numbers of economically disadvantaged youth.
In 2008 I wrote on a couple of occasions about our partnerships with other funders to raise growth capital to fuel the expansion of several of our most successful grantees: not only Nurse- Family Partnership but Citizen Schools and Youth Villages. As you know, we succeeded in creating a network of 19 co-investors (recently joined by three more) and aggregating $120 million.
In 2009 we will report on how these collaborations are faring and share the results of the contingency planning we are undertaking to adjust our expectations and the use of growth capital so long as the economic downturn persists. We remain confident that this kind of coordinated, collaborative investment is a model not only for philanthropy but also of effective public/private partnership, since the alignment of private and public funding is essential to all three grantees' expansion. In this and following years we will work in concert with our co-investors to share the lessons learned from our experience in ways that we hope will be useful to other philanthropists and policymakers. Although our project was conceived in better economic times, we believe that the principles of pooling limited dollars, investing against results and aligning private and public funding apply equally well, if not better, when resources are severely constrained.
To learn more about all of the above, please visit our website, which provides regular updates and more detailed information. Also, don't hesitate to e-mail your questions and comments.
I wish you all the best and look forward to hearing your thoughts.
Sincerely,

Nancy Roob