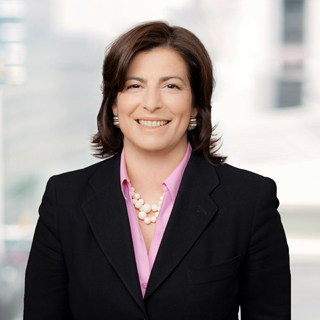 Dear Friends,
At a time when the urgent needs of children and youth are on the rise, it is deeply frustrating to me how hard it is for even the most successful nonprofit leaders to grow their organizations to meet these needs. We are woefully underinvesting in what works.
That is why over the past decade our foundation has been bringing investors together to help the highest-performing nonprofits reach their growth potential. To date, we have leveraged $155 million of the Edna McConnell Clark Foundation's resources to help 16 grantees secure nearly $487 million in additional private and public funding. But that's still not enough.
Today, I'm pleased to announce that the Edna McConnell Clark Foundation (EMCF) and nine other donors are joining together to raise the collaborative-funding model to a level more in keeping with the scale of the challenges we face. Together we are launching Blue Meridian Partners to invest at least $1 billion in high-performance nonprofits that are poised to have truly national impact for economically disadvantaged children and youth.
Private funders have worked together to marshal resources of this scale in areas such as global health and land conservation. But this level of concentration has rarely been attempted or achieved to help nonprofits in the dramatically undercapitalized field serving disadvantaged children and youth in the U.S.
In this column, I will describe this new venture in greater detail and explain how it complements the work we're doing at EMCF.
The Blueprint for Blue Meridian Partners
Blue Meridian Partners is being incubated at EMCF and chaired by Stanley Druckenmiller, whose investment in and chairmanship of the Harlem Children's Zone has been an inspiration to me and many others. I will serve as CEO of the venture, in addition to my existing responsibilities at EMCF. My colleagues Chuck Harris and Woody McCutchen will serve as Managing Directors of Blue Meridian Partners, supported by our long-time colleagues Kelly Campbell and William Foster from the Bridgespan Group.
Blue Meridian Partners has secured $750 million toward our goal of investing at least $1 billion to help high-performance nonprofits achieve much greater scale. Six General Partners, listed in alphabetical order, have committed $50 million or more:
The Ballmer Group, Philanthropy
The Edna McConnell Clark Foundation
Stanley and Fiona Druckenmiller
The Duke Endowment (with a focus on North Carolina and South Carolina)
George Kaiser Family Foundation (with a focus on Tulsa, Oklahoma)
The Samberg Family Foundation.
Four Limited Partners intend to commit $10 million or more:
The William and Flora Hewlett Foundation
The JPB Foundation
The David and Lucile Packard Foundation
The Charles and Lynn Schusterman Family Foundation.
We are incredibly grateful to these individuals and institutions, and we warmly welcome other investors to join as partners or to participate in specific investments.
Blue Meridian's investments will be big bets. They will be flexible, unrestricted, long-term (5-10 years), tied to performance, and total up to $200 million for each grantee. They will help grantees to expand their impact directly, by allowing them to strengthen their work, grow and serve greater numbers of youth, as well as indirectly, by helping them increase their influence on the child welfare, educational, judicial, and other systems that affect children's lives.
In addition to its size, what differentiates Blue Meridian Partners from EMCF's previous ventures is its decision-making structure. All six of the General Partners will share decision-making authority. This includes deciding where and how to invest, and overseeing and monitoring performance. EMCF's board will cast one among six votes.
Why, you may wonder, is EMCF sharing our decision-making authority? Because we cannot go it alone.
The impetus behind Blue Meridian Partners is both the urgency of the continuing crisis threatening America's youth and the results we have seen when the highest-performing nonprofits and their dynamic leaders are supercharged with large amounts of growth capital.
Unfortunately, such investments are shockingly rare. We funders typically provide nonprofit leaders with less money than they need to achieve results—often hardly enough to meet payroll, much less to support learning, improvement, and growth. And that support is too restricted—tied to narrow programs and short-term achievements.
Without large, long-term investments of growth capital for organizations with proven results, we'll continue to salve but not solve our big social challenges. To paraphrase a nonprofit leader I admire, we simply can't expect to create big change with spare change.
Blue Meridian Partners offers a vehicle and a strategy for making big, smart bets together. Together, we will fully capitalize great nonprofits to get the job done for children whose lives depend on it.
Learning and Growing at EMCF
Blue Meridian Partners is an important addition to our existing work at EMCF. It will not erode funding for our existing grantees.
Even as we launch this new venture, we are also investing in EMCF's overall development and next chapter. In our continuing efforts to improve outcomes for the most vulnerable youth in the U.S., EMCF is now undertaking a major planning effort to determine how best to build on our success in helping more than 70 of the country's highest-performing nonprofits guide thousands more low-income kids toward productive adulthood.
Lissette Rodriguez, who has been promoted to Vice President of Programs, will lead this planning effort and oversee EMCF's core Youth Development Fund and PropelNext. Lissette has done an outstanding job launching and leading PropelNext, and her extensive strategic management experience will be invaluable as we chart the next stage of EMCF's development. She will be assisted by Jehan Velji, in her new role as Portfolio Manager, Director of Portfolio Strategy.
In another, related shift in responsibilities, Kelly Fitzsimmons will assume a new role as Director of Innovation and Policy Planning, exploring ways to help EMCF and Blue Meridian grantees and other nonprofits, funders, and governments accelerate evidence-based policymaking and funding.
As the foundation's planning unfolds, Lissette and I will provide regular updates on our progress. You can also check out the Blue Meridian Partners page and related FAQ. We encourage you to share your feedback via bluemeridianpartners@emcf.org.
When we started raising funds from other donors a decade ago, doing so was quite radical for a private foundation with a large endowment. In many ways, we became like our grantees—accountable not just to our board but to a group of investors. It was a risk worth taking because, in the end, it meant higher performance from our grantees and a better life for the most disadvantaged kids. But let's be honest: huge social challenges remain in every community. My colleagues and I believe it's time to raise the stakes.