Reading Partners helps elementary school students who are struggling with reading accelerate their pace before it's too late and improve their reading skills.
Reading Partners operates reading centers in schools in low-income communities where trained, supervised volunteers provide one-on-one literacy tutoring twice weekly during and after the school day. The program targets the highest-need students, identified as six to 30 months behind grade level in reading.
Results from a randomized controlled trial by MDRC, involving more than 1,200 students in three states, found that the program had a positive impact on reading comprehension, fluency, and sight-word reading. It also included a cost analysis which revealed that the Reading Partners program is substantially less costly for schools to implement than typical literacy interventions.
According to analysis by Donald J. Hernandez, a professor at Hunter College, students arriving in middle school already behind in reading are in greater danger of failing or eventually dropping out. By paying individualized attention to students' difficulties while they are still in elementary school, Reading Partners can keep them on course to academic success.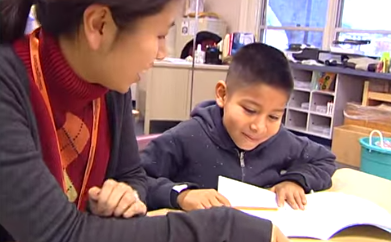 Infinite Possibilities
Learn more about Reading Partners and how its work has helped to improve the reading skills of struggling elementary school students.
In 2011, Reading Partners received a $3.5 million, three-year Social Innovation Fund award from EMCF and became a True North Fund grantee. EMCF followed that up with a 2015 investment of $4.3 million over three years, and a final investment in 2018 of $6 million over two years.
READING PARTNERS IN ACTION
When Jason Frias entered elementary school in Aurora, CO, he was reading at kindergarten level and scored poorly on tests. Full of unrealized promise, he seemed like a good fit for Reading Partners. Read Jason's story.