BELL provides intensive academic and enrichment support to young "scholars" (grades K–8) most at risk of failing in elementary or middle school. Its summer program combats summer learning loss among low-income students.
The organization's programs feature rigorous, research-based curricula aligned with state and national learning standards; small-group instruction in literacy and math; mentoring; a wide range of enrichment courses such as science, entrepreneurship, health, and leadership development; community service; and parental engagement.
BELL provides each scholar with individualized support in small classroom settings with a student-to-instructor ratio no greater than 10 to one. Programs are delivered in conjunction with community partners, mainly schools and school districts, during the summer and, on an afterschool basis, during the school year.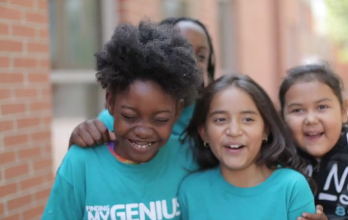 Power Scholars Academy
The YMCA and BELL's Power Scholars Academy help students blossom into leaders.
Since 2001, EMCF has invested $23.6 million in BELL. In 2011, BELL received a $5 million, three-year Social Innovation Fund award from EMCF, and became a True North Fund grantee. In 2017, EMCF made a three-year, $10 million investment in support of BELL's FY2018-FY2020 strategic plan.