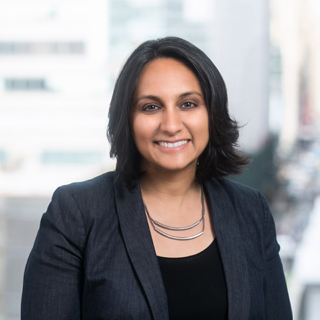 She also manages investments in select Youth Development Fund grantees and provides them strategic counsel.
Velji has more than 20 years' experience in strategy consulting and organizational capacity-building.
Before joining the Foundation in 2011, she worked for nine years for the Bridgespan Group, where she was a partner in the youth development practice and led strategy consulting engagements with nonprofit and foundation clients. Velji also led the development of Bridgespan's performance measurement practice area.
Velji previously worked at Mercer Management Consulting, advising for-profit clients and nonprofits on a pro bono basis, and at Catholic Relief Services, where she was responsible for evaluating the efficiency and effectiveness of the humanitarian relief and development agency's offices in over 17 countries in Africa, Asia and Latin America.
Velji currently serves on the Advisory Board of the Center for Effective Philanthropy, was on the National Committee of the Aga Khan Foundation USA for over ten years, and was formerly on the board of directors of FOCUS Humanitarian Assistance in Washington, DC and the Performance Outcomes Committee of Jewish Vocational Services in San Francisco.
In addition to a BA from Princeton University, Velji holds an MA from the Johns Hopkins School for Advanced International Studies and an MBA from Harvard Business School.