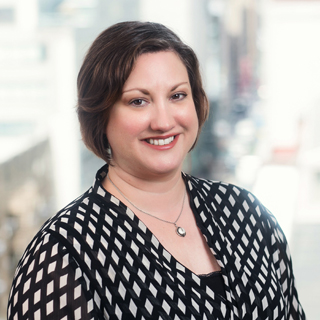 She oversees the management and strategic direction of PropelNext, helping to develop the business plan and scenarios for the future of the program while ensuring the success of current grantees' and co-investors' engagement with the initiative.
Before being named Director of PropelNext in 2016, Scaturro helped craft the initiative as Director of Program Operations, identifying cohort candidates, managing the selection process, developing systems to measure grantee performance, managing a set of grantee relationships, and working with co-investors.
In her previous position as Senior Portfolio Associate, Scaturro created the reporting process for and coordinated the quarterly performance review of all EMCF grantees, managed relations with several grantees, and helped identify and assess new candidates for investment. She initially served as the Foundation's accountant for three years.
Before joining EMCF in 2002, Scaturro worked in San Francisco for Catholic Charities and helped manage its public contracts. She also has experience providing direct services, having given employment and housing assistance to adults with mental illness and helped establish a performance management system.
Scaturro earned her bachelor's degree from Rutgers University and an MBA from Baruch College, CUNY.