The Children's Home Society of North Carolina serves youth and families across the state. Its programs include Family Finding, which helps connect foster youth with supportive relatives, and Wise Guys, which educates teenage boys about male responsibility and appropriate sexual behavior. 
Children's Home Society of North Carolina (CHSNC) carries out its mission, to provide every child a permanent, safe, and loving family, through a variety of programs that serve over 21,000 children and families annually in over 80 counties throughout the state.
FAMILY FINDING
Family Finding helps youth in or aging out of foster care find and engage family members who provide emotional support and, potentially, a permanent home. Family Finding staff are specially trained, carry small caseloads (generally five), and spend three to four months working with each youth.
By connecting foster youth with family members who are able to provide support, stability and permanency, Family Finding helps guide them to independent adulthood.
More information about Family Finding can be found on CHSNC's website.
WISE GUYS
Wise Guys is a male responsibility and teen pregnancy prevention program that teaches boys (ages 11-17) about healthy relationships and appropriate sexual behavior. Delivered in middle schools and community centers with parental consent, the program helps young males develop personal responsibility and self-esteem so they can form healthy relationships, make smart decisions, and achieve their long-term goals by avoiding teen pregnancy. 
More information about Wise Guys can be found at wiseguysnc.org.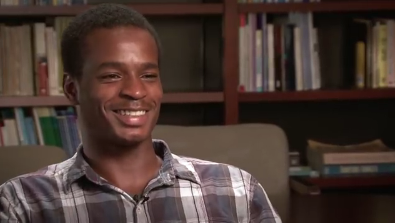 Family Finding: James' Story
The Duke Endowment, a co-investor in the True North Fund, helps tell the story of James Sanders, united with extended family by the Family Finding program.
In 2011, CHSNC received a $6 million, three-year Social Innovation Fund award from EMCF to expand Family Finding and Wise Guys across North Carolina. CHSNC became a True North Fund grantee. EMCF followed up with an 18-month, $1.2 million investment in 2015 and a two-year, $5 million commitment in 2016, raising its total investment (including support for developing and implementing its business and for evaluation) to $12.55 million.
CHILDREN'S HOME SOCIETY OF NORTH CAROLINA IN ACTION
At 19, Roger Thompson was still in high school and already father of a one-year-old daughter. Communities In Schools and the Children's Home Society of North Carolina's Wise Guys program helped him not only to graduate and go to college, but also to learn what it takes to become a real man. Read Roger's story.